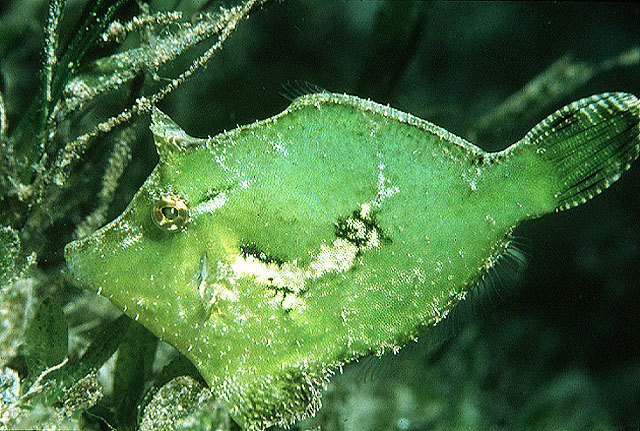 photo by Randall, J.E.

Monacanthidae (Filefishes)
14 cm SL (male/unsexed)
reef-associated; marine; depth range 2 - 15 m, non-migratory
Indo-West Pacific: Sri Lanka eastward thorough Indonesia to New Caledonia, north to southern Japan.
Dorsal soft rays (total): 27-30; Anal spines: 0-0; Anal soft rays: 26-29. Description: Characterized by having irregular green to brown blotching covering head and body; diffuse whitish bands through eye, on middle of body and back; concave dorsal profile of head; rudiment pelvic fin and robust first dorsal fin spine, with relatively large prominent barbs; first dorsal fin with short skin flaps; scattered skin flaps on body; rounded caudal fin; caudal peduncle depth almost equal to caudal peduncle length; side of caudal peduncle of male with well-defined, oblong patch of bristles (Ref. 90102).
Adults inhabit reef, weed, and rubble areas on shallow coral reefs (Ref. 43248, 48637), commonly found in seagrasses (Ref. 58881). Solitary (Ref. 90102). Major food items include amphipods, polychaetes and molluscs (Ref. 58881). Oviparous (Ref. 205).
Least Concern (LC); Date assessed:

02 March 2015

Ref. (126983)
harmless
Source and more info: www.fishbase.org. For personal, classroom, and other internal use only. Not for publication.