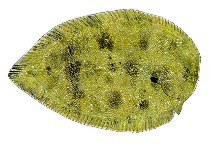 photo by Yau, B.

Family:
Soleidae (Soles)
Max. size:
35 cm TL (male/unsexed)
Environment:
demersal; brackish; marine
Distribution:
Southwest Pacific: eastern Australia.
Diagnosis:
Dorsal spines (total): 0-0; Dorsal soft rays (total): 56-62; Anal spines: 0-0; Anal soft rays: 44-52. Caudal fin rounded; pectorals small (Ref. 33839). Eyed side uniformly blackish or light brown with large patches of dark brown cirri, pectoral fin nearly black, dorsal, anal and caudal fins with narrow whitish margin; blind side creamy to white with brownish pigment on unpaired fins, pectorals whitish, lower portion blackish in some large specimens (Ref. 33839).
Biology:
Occurs in muddy bottoms of coastal rivers, estuaries and shallow inshore waters (Ref. 33839). Flesh is of excellent quality (Ref. 33839).
IUCN Red List Status:
Least Concern (LC); Date assessed:

19 January 2021

Ref. (126983)
Threat to humans:
harmless




Source and more info: www.fishbase.org. For personal, classroom, and other internal use only. Not for publication.