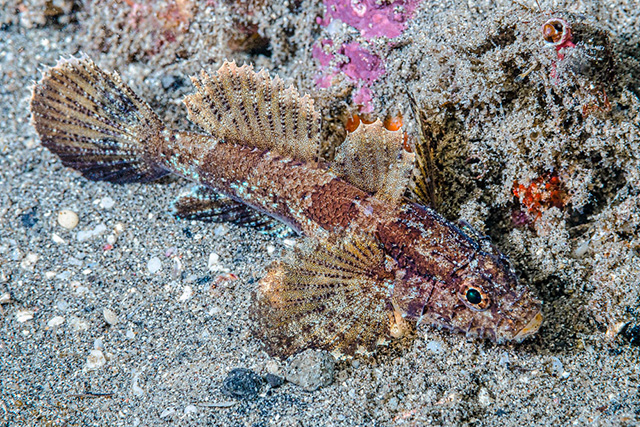 photo by Libert, F.

Gobiidae (Gobies), subfamily: Gobiinae
7.3 cm TL (male/unsexed)
reef-associated; freshwater; brackish; marine; depth range 1 - 15 m, amphidromous
West Pacific.
Dorsal spines (total): 7-7; Dorsal soft rays (total): 10-10; Anal spines: 1-1; Anal soft rays: 8-8. Characterized by mottled brown with dark stripe from snout, through eye to upper opercle; dark brown bars of variable width at level of nape, posterior part of first dorsal fin, anterior part of second dorsal fin, posterior half of second dorsal fin and across caudal peduncle; upper edge of caudal fin with intense black spot; completely united pelvic fins with well-developed frenum; pointed caudal fin; longitudinal scale series 40-45; cycloid scales on nape, cheek, opercle, base of pectoral fin, breast and belly, posterior scales ctenoid; predorsal scales 20-22; head with prominent papillae ridge; depth of body 5.4-6.0 in SL (Ref. 90102).
Found in tide pools and lagoons. Also occur in rubble, intertidal to a few meters depth (Ref. 48637).
Least Concern (LC); Date assessed:

10 August 2020

Ref. (126983)
harmless
Source and more info: www.fishbase.org. For personal, classroom, and other internal use only. Not for publication.