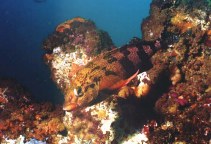 photo by Coetzee, C.

Family:
Cheilodactylidae (Morwongs)
Max. size:
30 cm TL (male/unsexed)
Environment:
demersal; brackish; marine; depth range 1 - 120 m
Distribution:
Southeast Atlantic: Namibia to Natal, South Africa.
Diagnosis:
Dorsal spines (total): 17-19; Dorsal soft rays (total): 23-25; Anal spines: 3-3; Anal soft rays: 9-11
Biology:
Mainly in shallow water among rocks, but sometimes caught down to 120 m depth. Feeds on small crabs, mollusks, worms, and other small invertebrates (Ref. 9492). Tidepools apparently an important nursery habitat for juveniles (Ref. 120445),
IUCN Red List Status:
Least Concern (LC); Date assessed:

12 August 2019

Ref. (126983)
Threat to humans:
harmless




Source and more info: www.fishbase.org. For personal, classroom, and other internal use only. Not for publication.