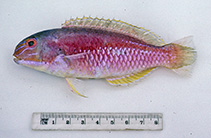 photo by Graham, K.

Family:
Labridae (Wrasses), subfamily: Bodianinae
Max. size:
Environment:
demersal; marine; depth range - 60 m
Distribution:
Western Central Pacific: northeastern Australia.
Diagnosis:
Biology:
Adults inhabit coral reef and rock reef (Ref. 75154). Oviparous, distinct pairing during breeding (Ref. 205).
IUCN Red List Status:
Least Concern (LC); Date assessed:

12 June 2008

Ref. (126983)
Threat to humans:
harmless




Source and more info: www.fishbase.org. For personal, classroom, and other internal use only. Not for publication.