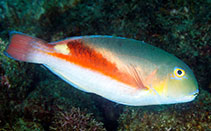 photo by Greenfield, J.

Family:
Labridae (Wrasses), subfamily: Bodianinae
Max. size:
45 cm TL (male/unsexed)
Environment:
reef-associated; marine; depth range 25 - 60 m
Distribution:
Indo-West Pacific: Philippines (Ref. 9710) to Indonesia and northwestern Australia. Possibly the male of Choerodon robustus (Ref. 9710).
Diagnosis:
Dorsal spines (total): 13-13; Dorsal soft rays (total): 7-7; Anal spines: 3-3; Anal soft rays: 10-10. Body without a broad dark, pale-margined, oblique band on side; body bicoloured, dusky anterodorsally and pale posteroventrally, line of demarcation extending between base of first dorsal-fin spine and upper side of pectoral-fin base; a broad anteroventrally tapering reddish brown stripe covering dorsal half of side posterior to greenish brown anterodorsal portion of body; reddish brown area edged ventrally by yellow stripe. (Ref 9823)
Biology:
Found on deep outer reef habitats; flat sandy or weedy areas. Rarely seen by diving and is usually caught on lines from deep water (Ref. 48636). Usually found solitary, in rubble bottoms near seaward reefs. C. melanostigma is a junior synonym (Ref. 90102).
IUCN Red List Status:
Least Concern (LC); Date assessed:

12 May 2008

Ref. (126983)
Threat to humans:
harmless




Source and more info: www.fishbase.org. For personal, classroom, and other internal use only. Not for publication.