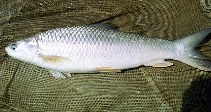 photo by Lovshin, L.

Family:
Cyprinidae (Minnows or carps), subfamily: Labeoninae
Max. size:
100 cm SL (male/unsexed); max.weight: 13 kg
Environment:
benthopelagic; freshwater; brackish; depth range - 5 m, potamodromous
Distribution:
Asia: native to large rivers in the Indian subcontinent (Ref. 12693). Has been so widely transported in connection to aquaculture that its natural distribution can no longer be determined (Ref. 33488).
Diagnosis:
Dorsal spines (total): 0-0; Dorsal soft rays (total): 12-15; Vertebrae: 39. Body plain greyish; 12-15 branched dorsal rays (Ref. 43281).
Biology:
Adults inhabit fast flowing streams and rivers (Ref. 41236). Can tolerate high levels of salinity. Juveniles are omnivorous to about 5 cm TL, adults are almost entirely herbivorous. Feed on plankton, but also grazes on algae. Spawning occurs in marginal areas of the water body with a depth of 50-100 cm over a sand or clay substrate. A 6 kg female can lay a million eggs (of 1 mm diameter) (Ref. 6028). Widely cultured in India but fails to breed naturally in ponds, thus induced breeding is done. Fishery harvests 40 cm fish weighing 1000 g and of about 3 years. A very active fish that thrives in ponds but spawns in swift rivers. Fingerlings are in great demand for stocking ponds between July and November (Ref. 4832).
IUCN Red List Status:
Vulnerable (VU); Date assessed:

17 March 2011

(D2) Ref. (126983)
Threat to humans:
harmless




Source and more info: www.fishbase.org. For personal, classroom, and other internal use only. Not for publication.