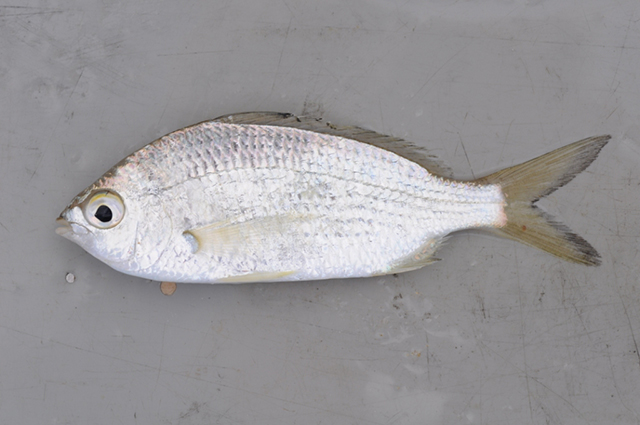 photo by Dowling, C.

Gerreidae (Mojarras)
20 cm TL (male/unsexed)
demersal; brackish; marine; depth range 3 - 40 m
Indo-West Pacific: Australia, but may occur in southern New Guinea; also reported in New Caledonia..
Dorsal spines (total): 9-10; Dorsal soft rays (total): 9-11; Anal spines: 3-3; Anal soft rays: 7-7. This species is distinguished by having the following characters: body oval, greatly compressed and with moderately deep caudal peduncle; moderate-sized and weakly attached scales covering the body and extended over the head; lateral line gradually curved, following contour of back, extending onto caudal fin with several scales; small mouth but greatly protractile; numerous villiform teeth on jaws; dorsal fin spines elevated anteriorly, notched over remaining spines, followed by longer, sub-equal rays; anal fin short-based, similar to and opposite posterior part of the dorsal fin; caudal fin deeply forked; pectoral fins pointed with long upper rays, reaching the anal fin. Colour of adults shiny with dark-tipped dorsal fin; juveniles olive above with some indistinct dark blotching (Ref. 9002).
Found in estuaries, harbors, to fairly deep water along the shores (Ref. 30392); strongly affected by freshwater; and reported to congregate in schools (Ref. 58476).
Least Concern (LC); Date assessed:

02 March 2015

Ref. (126983)
harmless
Source and more info: www.fishbase.org. For personal, classroom, and other internal use only. Not for publication.