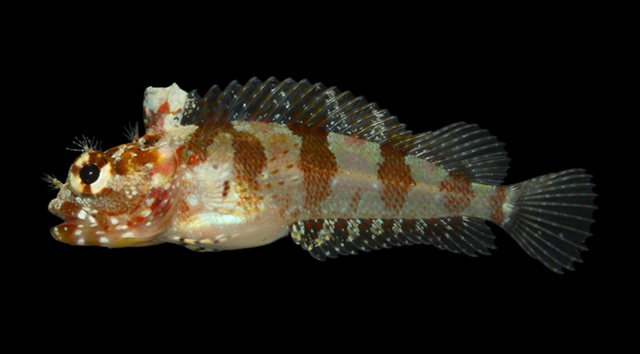 photo by Macieira, R.M.

Labrisomidae (Labrisomids)
7.5 cm TL (male/unsexed)
reef-associated; marine
Western Atlantic: southeastern Florida in USA and Mexico to Brazil; absent from Bahamas and most of the Antilles.
Dorsal spines (total): 18-19; Dorsal soft rays (total): 10-11; Anal spines: 2-2; Anal soft rays: 18-19
Occurs in rocky and rubble shores with algal mats, reefs and seagrass beds. Found in holes and crevices or amongst coral formations (Ref. 13628). Feeds mainly on crustaceans (Ref. 13628).
Least Concern (LC); Date assessed:

18 October 2007

Ref. (126983)
harmless
Source and more info: www.fishbase.org. For personal, classroom, and other internal use only. Not for publication.