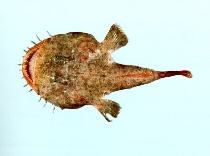 photo by CSIRO

Family:
Lophiidae (Goosefishes)
Max. size:
40 cm TL (male/unsexed)
Environment:
demersal; marine; depth range 30 - 800 m
Distribution:
Indo-Pacific: throughout the area.
Diagnosis:
Anal spines: 0-0; Anal soft rays: 6-6
Biology:
Found on sandy mud bottom (Ref. 11230). Feeds on fishes (Ref. 5213). Oviparous (Ref. 205), multiple spawner (Ref. 32832). Depth range in the East China Sea and the Yellow Sea is between 30 m-500 m (Ref. 11230)
IUCN Red List Status:
Least Concern (LC); Date assessed:

12 August 2019

Ref. (126983)
Threat to humans:
harmless




Source and more info: www.fishbase.org. For personal, classroom, and other internal use only. Not for publication.