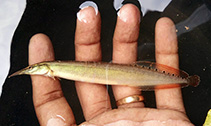 photo by Win, T.

Family:
Mastacembelidae (Spiny eels)
Max. size:
25 cm SL (male/unsexed)
Environment:
demersal; freshwater
Distribution:
Asia: Ayeyarwaddy, lower Sittang and lower Salween basins in Myanmar.
Diagnosis:
Dorsal spines (total): 14-22; Dorsal soft rays (total): 51-61; Anal spines: 3-3; Anal soft rays: 51-60; Vertebrae: 72-80. Belongs to the Macrognathus aculeatus species group but can be distinguished from all other species of this group by the following combination of characters: 19-23 rostral tooth plates; 14-22 dorsal-fin spines; and 7-11 small ocelli along soft dorsal fin, with ventrally open, incomplete white rim (Ref. 83418).
Biology:
IUCN Red List Status:
Least Concern (LC); Date assessed:

22 March 2010

Ref. (126983)
Threat to humans:
harmless




Source and more info: www.fishbase.org. For personal, classroom, and other internal use only. Not for publication.