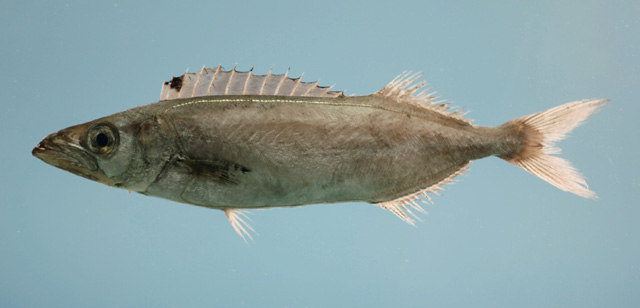 photo by NOAA\NMFS\Mississippi Laboratory

Gempylidae (Snake mackerels)
22 cm SL (male/unsexed)
benthopelagic; marine; depth range 184 - 457 m
Western Atlantic: known only from the Gulf of Mexico, Yucatán Channel, Caribbean Sea off Venezuela, off Suriname, and off southern Brazil (Ref. 47377).
Dorsal spines (total): 27-27; Dorsal soft rays (total): 17-20; Anal spines: 3-3; Anal soft rays: 17-20. There are two lateral lines on the sides, both originating above the upper angle of the gill opening. Sometimes the lower lateral line branches off from the second or third tubular scale of the upper lateral line. The sides are silvery, the back brown; the first dorsal fin is blackish, the second dorsal fin black anteriorly; the buccal cavity is pale, and the branchial cavity pale to dusky.
Least Concern (LC); Date assessed:

12 October 2018

Ref. (126983)
harmless
Source and more info: www.fishbase.org. For personal, classroom, and other internal use only. Not for publication.