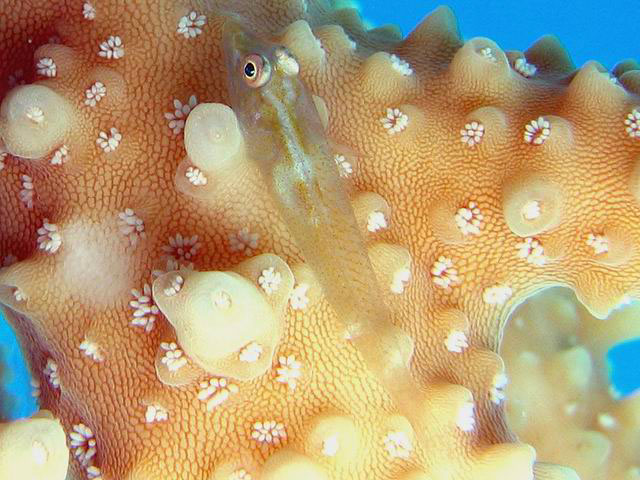 photo by Herler, J.

Gobiidae (Gobies), subfamily: Gobiinae
1.68 cm TL (male/unsexed)
demersal; marine; depth range 3 - 15 m
Indo-West Pacific: Red Sea, Egypt and Israel, Thailand and Australia.
Dorsal spines (total): 6-7; Dorsal soft rays (total): 8-9; Anal spines: 1-1; Anal soft rays: 8-9. Characterized by semi-transparent; iris red; head and body with numerous pepper-like melanopores, concentrated on side below dorsal fins; longitudinal scale series 15-27; mostly scaleless head and anterior third of body; restricted gill opening to pectoral fin base; extremely elongated tip of upper jaw and lip, looks like curved beak; depth of body at anus 4.2-7.1 in SL (Ref. 90102).
Commensal with large staghorn corals in 3-15 m (Ref 90102).
Not Evaluated (N.E.) Ref. (124695)
harmless
Source and more info: www.fishbase.org. For personal, classroom, and other internal use only. Not for publication.
Page created by Jen, 05.08.02, php script by kbanasihan 06/09/2010 , last modified by
sortiz
, 10/02/17