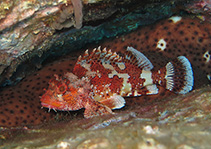 photo by Wirtz, P.

Family:
Scorpaenidae (Scorpionfishes or rockfishes), subfamily: Scorpaeninae
Max. size:
17.8 cm TL (male/unsexed); max.weight: 107.7 g
Environment:
demersal; brackish; marine; depth range 20 - 40 m
Distribution:
Eastern Atlantic: Azores, Madeira, and Morocco to the Canary Islands, Cape Verde and Senegal. Also known from several localities in the Mediterranean Sea.
Diagnosis:
Biology:
Inhabits shallow coastal waters (Ref. 2683); rocky areas and favours habitats with generous brown algal growth, rocky depressions and ledges and small boulders (Ref. 95708). Feeds on crustaceans and small fishes (Ref. 4570). Anterolateral glandular groove with venom gland (Ref. 57406).
IUCN Red List Status:
Least Concern (LC); Date assessed:

15 July 2014

Ref. (126983)
Threat to humans:
venomous




Source and more info: www.fishbase.org. For personal, classroom, and other internal use only. Not for publication.