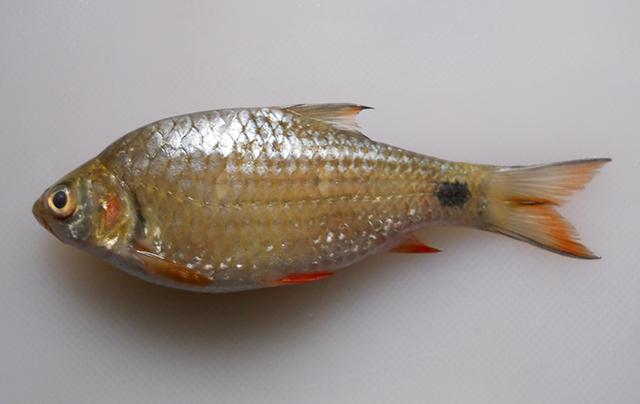 photo by Plamoottil, M.

Cyprinidae (Minnows or carps), subfamily: Smiliogastrinae
10.6 cm SL (male/unsexed)
benthopelagic; freshwater; depth range 1 - 5 m
Asia: Kerala, India.
Dorsal soft rays (total): 11-11; Anal soft rays: 8-8. This species is distinguished from its relative species in having the following characters: higher body, with body depth at dorsal fin origin 39.2- 41.5 % SL and dorsal fin nearer to caudal fin base than snout tip and a little behind ventral origin; dorsal fin green and other fins red; predorsal scales 11-12; lateral line scales 30;scales between lateral line and dorsal fin base 6½ (Ref. 104747).
The type locality of this species in Manimal River at Venpala, is less than 50 m wide and 1- 5 m deep; bank height about 1 m with respect to the general water level in summer season. Sediments in this stretch are generally silty clays with occasional patches of sand. The channel bed is blanketed by mud dominated sediments. The stretch of this river is covered by moderately dense riparian vegetation (Ref. 104747).
Not Evaluated (N.E.) Ref. (126983)
harmless
Source and more info: www.fishbase.org. For personal, classroom, and other internal use only. Not for publication.