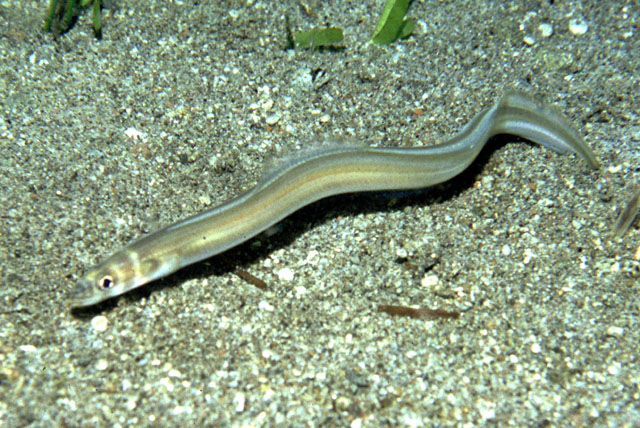 photo by Kochzius, M.

Congridae (Conger and garden eels), subfamily: Congrinae
140 cm TL (male/unsexed)
reef-associated; brackish; marine; depth range 1 - 80 m
Indo-Pacific: Persian Gulf (Ref. 68964), Red Sea and East Africa to the Marquesan and Easter islands, north to southern Japan and the Ogasawara Islands, south to northern Australia and Lord Howe Island; except in Hawaii, where former subspecies C. marginatus is found.
Dorsal spines (total): 0-0; Anal spines: 0-0; Vertebrae: 139-146. Flanges on upper and lower lips well developed; 2 rows of teeth in jaws, those of outer row larger; closely set and compressed to form cutting edge; 6th infraorbital pore located close behind and slightly above posterior angle of jaw. Dorsal fin begins over middle of appressed pectoral fin (Ref. 11039, refer to key for other characters). Brownish grey, yellow below and on fins, median fins with narrow black edge, black patch on lower rear edge of eye and on pectorals (Ref. 5323); assumes a pattern of broad dark bands at night (see also Ref. 4538, 1602). Body depth at gill opening 17-23 in TL (Ref. 90102).
Solitary species common on reef flats and seagrass beds of shallow lagoons but ranges to depths of 80 m on outer reef slopes (Ref. 1602). Also found in estuaries (Ref. 5213). Feeds on fish and crustaceans at night, assuming a pattern of broad dark grey bars (Ref. 11441).
Least Concern (LC); Date assessed:

16 August 2011

Ref. (126983)
harmless
Source and more info: www.fishbase.org. For personal, classroom, and other internal use only. Not for publication.