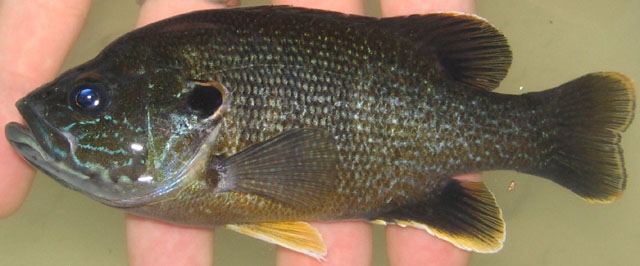 photo by Divino, J.N.

Centrarchidae (Sunfishes)
31 cm TL (male/unsexed); max.weight: 960.0 g; max. reported age: 9 years
benthopelagic; freshwater; pH range: 7 - 7.5; dH range: 10 - 15
North America: Great Lakes, Hudson Bay and Mississippi River basins from New York in USA and from Ontario in Canada to Minnesota and south Dakota, USA, and south to the Gulf of Mexico; from Escambia River in Florida, and Mobile Bay in Georgia and Alabama to Rio Grande in Texas, USA. Also northern Mexico.
Adults inhabit quiet pools and backwaters of sluggish streams, lakes and ponds. Often near vegetation (Ref. 5723, 10294). Juveniles feed on immature insects and microcrustaceans (Ref. 10294). Nest spawners (Ref. 79012).
Least Concern (LC); Date assessed:

30 August 2018

Ref. (126983)
harmless
Source and more info: www.fishbase.org. For personal, classroom, and other internal use only. Not for publication.