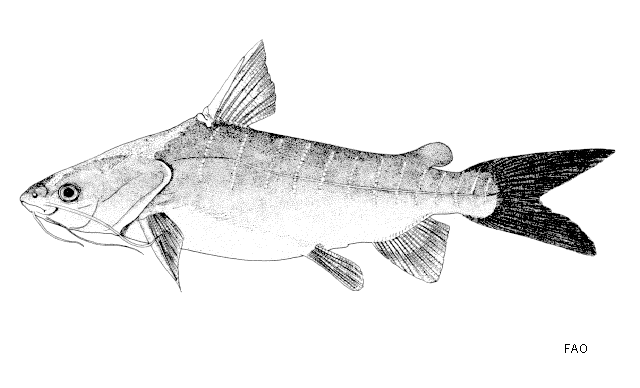 photo by FAO

Ariidae (Sea catfishes), subfamily: Ariinae
60 cm SL (male/unsexed)
demersal; freshwater; brackish; marine; depth range - 135 m
Western Pacific: northern Australia and central-southern New Guinea.
Dorsal spines (total): 1-1; Dorsal soft rays (total): 7-7; Anal spines: 0-0; Anal soft rays: 16-20
Occurs in lakes, rivers, muddy coastal seas and estuaries (Ref. 5259). Inhabits fresh water in upper reaches of streams, also found in brackish estuaries and lower reaches of rivers (Ref. 44894). Feeds on fishes, prawns, insects, terrestrial fruits, aquatic plants, bottom detritus (Ref. 5259, 44894) and mollusks (Ref. 2847). Breeds between the late dry and early wet season (September to January) in coastal lagoons and flooded swamps. Males orally incubate the eggs until they hatch and guard the fry for about 4 weeks afterwards. A good angling and eating species (Ref. 44894).
Least Concern (LC); Date assessed:

12 February 2019

Ref. (126983)
traumatogenic
In the rivers of Mindanao.
Source and more info: www.fishbase.org. For personal, classroom, and other internal use only. Not for publication.