Otolithes ruber (Bloch & Schneider, 1801)
Tigertooth croaker
Abo, Abo, Abu, Alakaak, Alakak, Balat, Dulama, Gulama, Ilak, Lagis, Magalaw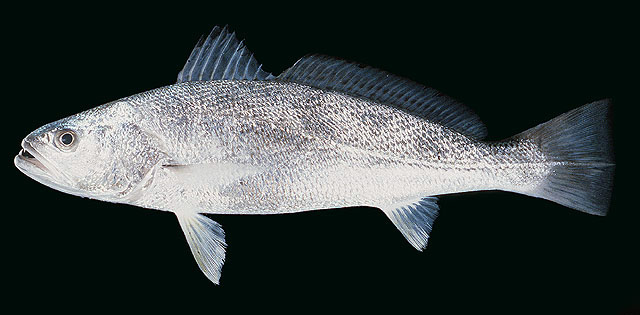 photo by Randall, J.E.

Sciaenidae (Drums or croakers)
90 cm TL (male/unsexed); max.weight: 7,000.0 g; max. reported age: 5 years
benthopelagic; brackish; marine; depth range 10 - 40 m, amphidromous
Indo-West Pacific: East Africa, including Madagascar (absent in the Red Sea), eastward to southern China Sea and Queensland, Australia.
Dorsal spines (total): 10-11; Dorsal soft rays (total): 27-30; Anal spines: 2-2; Anal soft rays: 7-8
Found in coastal waters (Ref. 30573). Adults feed on fishes, prawns and other invertebrates (Ref. 5213, 9772). Generally marketed fresh, may be dried or salted (Ref. 5284).
Least Concern (LC); Date assessed:

30 June 2016

Ref. (126983)
harmless
Also Ref. 2113.
Source and more info: www.fishbase.org. For personal, classroom, and other internal use only. Not for publication.